The continuing Coronavirus pandemic has cast a gloom over every aspect of the economy and the global film industry too has not being spared from its resounding impacts. The case of Bollywood is no different! One major impact on the Indian film industry has been pushing the release of several Bollywood films slated to hit theaters, to the near future.
The films that are included in this list comprise the Akshay Kumar-Katrina Kaif starrer, 'Suryavanshi'; Arjun Kapoor-Parineeti Chopra starrer, 'Sandeep Aur Pinky Faraar' and the Rana Daggubati featuring film titled 'Haathi Mere Sathi'. Besides Rana Daggubati, the film also features Shriya Pilgaonkar, Pulkit Sharma and Zoya Hussain. In addition to the postponement of the film's Hindi version, the release of the Telugu and Tamil versions titled 'Aranya' and 'Kaadan' respectively will also be delayed as per the statement by its film makers.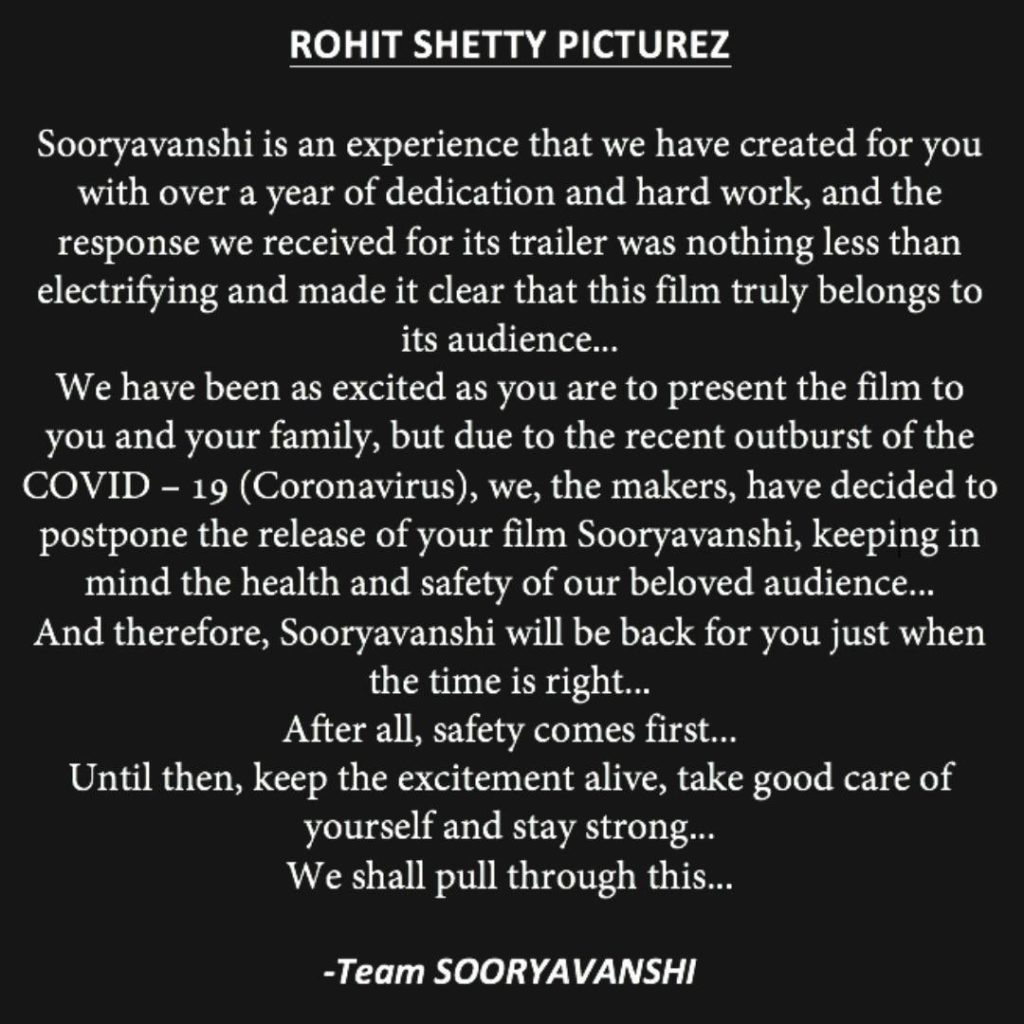 The action according to the production team at Eros International was in response to the current scenario which called for restraint and responsibility. Rescheduling the movie release to a date in the near future was one step towards keeping the Coronavirus pandemic in check. The decision was taken to support the call given by the World Health Organization and the Indian government for containing the pandemic.
The statement issued by the makers of the film began with their reiteration to having the best interests of the audience at heart as they were the ones who were the motivating force behind the production of films with unique storylines. They also aimed for an audience that was healthy and happy with their films. Therefore, they felt that in view of the unexpected outbreak of the COVID19 which had taken the world by storm, the slated release of 'Haathi Mere Saathi', 'Kaadan' and'Aranya' had to be rescheduled.
The statement expressed solidarity of the makers with their partners, distributors, exhibitors and audiences and further offered prayers for the health and wellbeing of everyone. Continuous assessment of the situation was in progress, the statement stated and they hoped for the announcement of the new date for the film's release in the days to come. Till then, it called for the public to remain healthy, secure and blessed.
The inspiration for the film 'Haathi Mere Saathi' has been obtained from the unforeseen encroachment of humans into the elephant corridors in Kaziranga, Assam and its subsequent impact. It is a saga of love and kindness towards the plant and animal life of the region.
There has been no inkling of the film's new release date from the makers.
Ciao, till further updates!