Sushant Singh Rajput's fans have been pouring tributes for him by standing against nepotism. Caught in the crossfire is Mahesh Bhatt's 'Sadak-2', the trailer of which garnered 95% dislikes in just one day. The trailer of Sadak 2 was launched on August 12, 2020 and at the time of writing this the trailer has received 6.40million dislikes against 345k likes.
Sadak 2 Trailer Dislike Record
The tradition of disliking started in 2018 when YouTube uploaded its video 'YouTube Rewind 2018', which had topped the list of most disliked video with 18 million dislikes. While the number of dislikes is higher, the dislike ratio is 86%, which is why Mahesh Bhatt's trailer of Sadak 2 with 95% dislikes has topped the list of most disliked video in just 1 day!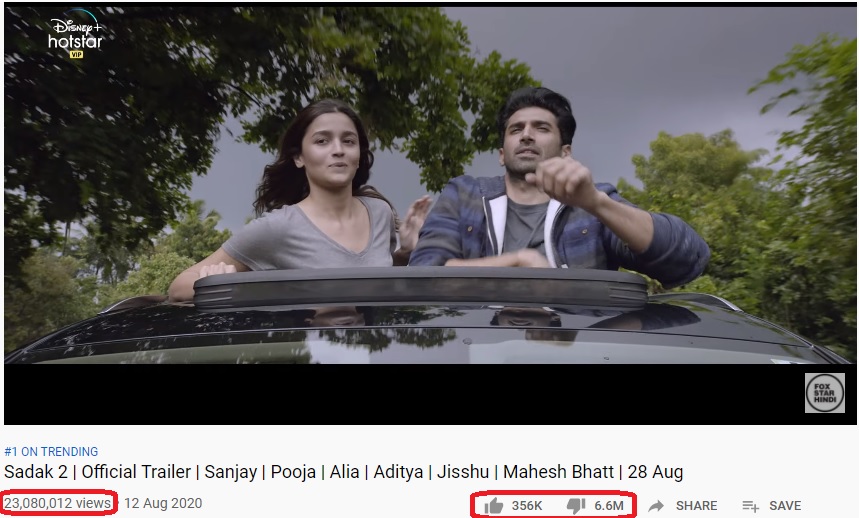 Why Sadak 2 Trailer gets Dislikes
Starring Alia Bhatt, Aditya Roy Kapoor and Sanjay Dutt and directed by Mahesh Bhatt, the trailer is accumulating dislikes like wildfire…Without going into the content of the trailer, the fans are simply raining dislikes to the video. The comments and the dislikes are a clear show of anger by fans against nepotism.
The dislikes are a befitting reply by fans to star kids. It must be noted that fans have not forgotten Alia's comment 'Sushant who? on Karan Johar's 'Coffee with Karan' when asked options about who she would like to go on a date with.
Growing Power of Social Media Against Nepotism
Mahesh Bhatt is returning to direction after almost 2 decades, but guess he chose the wrong timing. Some of the top comments include 'We miss you Sushant' 'I hate nepotism' and ' I came here only to dislike the video' clearly explains the fans hatred towards nepotism and their unconditional love for hero 'Sushant Singh Rajput' who is unfortunately not with us anymore. Fans are also urging on YouTube to not watch the movie when it is released. It must be noted that the news that Sanjay Dutt is battling with stage 3 lung cancer has been broken recently. Will fans go and watch the movie? Only time will tell!