The unfortunate demise of Sushant Singh Rajput has led to a wave of sorrow across the nation. A great human being, talented actor, and a human who valued education greatly committed suicide and the world now lacks answers about why he might have done so. Abhinav Kashyap, who directed Dabang 1, starring Salman Khan wrote a detailed tweet expressing his support to the family of the deceased actor and appealed the government for a deeper investigation into the matter.
Abhinav Kayshap blames Salman Khan and Family
Sushant Singh Rajput's death is just a tip of the iceberg for a much bigger issue that prevails in the industry and will unravel several untold stories just like the #metoo movement did. He claims that superstars have powerful connections in the industry that constantly cause problems for newcomers or outsiders.
Kashyap tweeted that he has been constantly facing threat calls, harassment, hate comments, canceled contracts, etc. after he directed Dabangg 1. He said that Arbaaz Khan, Sohail Khan, Salman Khan and their father Salim Khan has been sabotaging his movie releases, contracts with other production houses and producers, and have been using their contacts to restrict him from getting any work.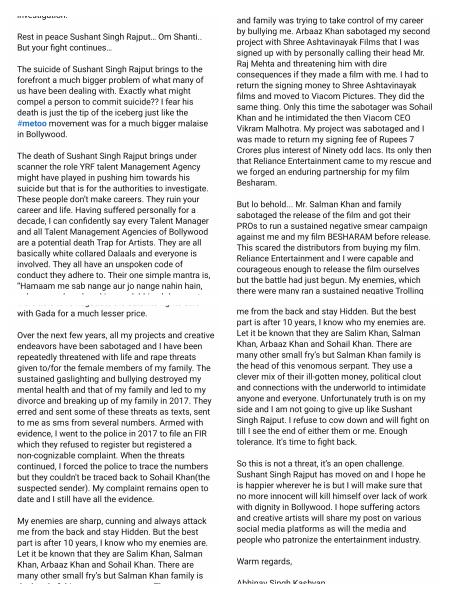 He says he had signed with Ashtavinayak Films and Viacom. The contracts were canceled after Arbaaz Khan and Sohail Khan threatened the respective heads of the Ashtavinayak Films and Viacom of dire consequences. Abhinav Kashyap had to repay all the money back with interests. All this comes after twitter was already seeing rumors about Sushant Singh Rajput being banned from major production houses even after a phenomenal performance in his last film 'Chicchore'.
Kashyap also stated that back in 2017, he went to the police station with all the evidence he had and wanted to report a complaint specifically against Salman Khan and his family, which was rejected by the police officers. However, they simply filed a non-cognizable complaint. He said that his case is still open with no developments whatsoever.
Constant threats and harassment from Salman Khan and family left Abhinav Kashyap mentally devastated and ruined his family life. He alleges that these threats ultimately led to his divorce.
YRF Talent Management Agency- A Death Trap
Abhinav Kashyap pointed out that the big names in the industry try to keep outsiders suppressed and under their toes. To achieve this, they start at ground level and the talent agencies such as YRF Talent Management act as traps to lure in and destroy young talent. He said that these agencies make new actors struggle and destroy their self-confidence by humiliating them until they eventually give up their dreams, enter prostitution and escorts (yes, male actors too), and even suicide. They make these actors sign unfavorable contracts by forcing them into traps and schemes due to which they are often paid a lot less and have to work on sub-par projects.