A sequel of Hindi Medium and Irrfan's comeback movie after battling with cancer, Angrezi Medium directed by Homi Adajania fails to enchant the audience despite stunning performance by stellar actors Irrfan Khan and Deepak Dobriyal. The other stars include Kareena Kapoor, Radhika Madan, Dimple Kapadia, Kiku Sharda, Pankaj Tripathi, Ranvir Shorey and Manu Rishi Chaddha.
The Story Line
The story is based in the small town of Udaipur, where Champak Bansal (Irrfan Khan) is a mithai shop owner. A single parent, Champak showers all his love on his teenage daughter Tarika (Radhika Madan) and is willing to go at all lengths to fulfill the wishes of his daughter. Tarika aspires to study in the UK and that's where the story begins as the high fees of education are beyond the reach of Champak. Gopi (Deepak Dobriyal) is Champak's cousin and the two constantly bicker over how their mithai brand ownership, but ultimately join hands to help Tarika achieve her dream. Kareena Kapoor plays Naina Kohli, a cop in London and Dimple Kapadia plays her mom who's separated from the daughter.
The Hits
Irrfan Khan once again proves that he is an actor par excellence. Both Deepak Dobriyal and Irrfan Khan carry the film on their shoulders and make an otherwise drab movie worth watching. Kiku Sharda is bearable with his good comic timing, but he has nothing much to do in the film. Radhika Madan as a typical self-indulgent teenager does justice to her role. The film is mirror to the young generation of today eager to study abroad and the parents who unduly stretch themselves to fulfil their dreams.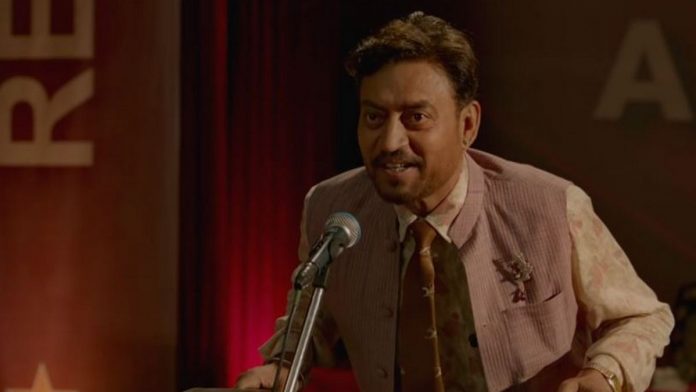 The Misses
The film definitely lacks the story and cohesiveness. This is a classic case of too many cooks spoiling the broth, as the film is written by 4 writers. Talents such as Dimple Kapadia and Kareena Kapoor are wasted as their characters lack depth. Overall, Angrezi Medium falls short of expectations of people who were awed by the simplicity and the beauty of Hindi Medium.
Our Take
Irrfan Khan and Deepak Dobriyal fans will love this movie. Irrfan Khan infuses life into an otherwise average movie with his ace performance. But overall the movie falls short of our expectations.