Just hours after PM Narendra Modi asked people to donate to the PM Cares fund to fight the current corona crisis, corporates and celebrities wholeheartedly extended their support to the pledge funds. Some of the celebrities who extended their financial support are:
Akshay Kumar: Reputed for his generosity, Akshay Kumar pledged a sum of Rs.25 crore to the PM-Cares Fund. He shared the news through twitter.
Kartik Aryan: This young and in-demand actor was quick to donate Rs. 1 crore.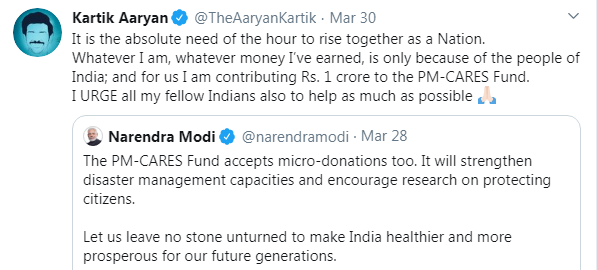 Nana Patekar, who's always been at the forefront for a noble cause and helped the farmers, came forward and donated a sum of Rs. 50 lakhs to the PM Cares fund.
Kapil Sharma: Comedy king Kapil Sharma was soon to respond by pledging Rs. 50 lakhs.
Varun Dhawan: The versatile actor pledged Rs. 30 lakhs to the fund. He also donated Rs. 25 lakhs to Maharashtra CM  Relief fund.

Suresh Raina: Renowned Cricketer donated Rs. 52 lakhs in all, Rs.31 lakhs to the PM-Cares and the Rs.21 lakhs to UP CM's Disaster Relief fund.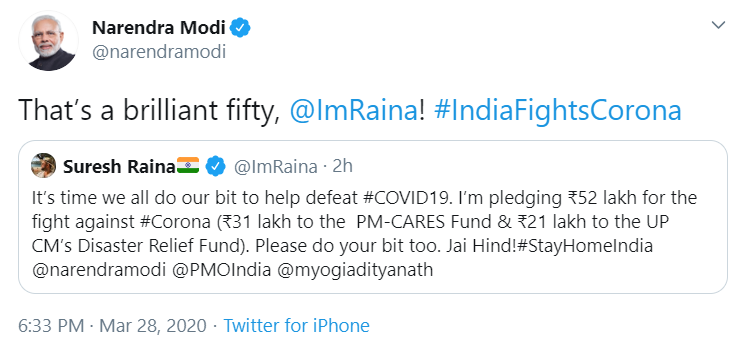 Singer Guru Randhawa contributed Rs. 20 lakhs, while actors Ayushmann Khurranna, Kriti Sanon, Bhumi Pednekar, Katrina Kaif contributed undisclosed amounts to the PM Cares funds. Katrina also contributed an undisclosed amount to the Chief Minister's Relief Fund, Maharashtra.
Singer Actor Diljit Dosanjh extended his support with Rs. 20 lakh in donation to the PM Cares fund.
Versatile actor Rajkumar Rao donated an undisclosed sum to PM Cares fund in addition to contributing to the CM Relief fund and Zomato Feeding India.
The 'Dj waley babu' rapper Badshah offered Rs.25 lakhs, while the beautiful Shilpa Shetty donated Rs. 21 lakhs to the PM Cares Fund.
The undisputed super star Salman Khan will be supporting 25000 daily wage workers financially.
Bollywood's most loved designer Sabyasachi Mukherjee donated Rs.1 crore, while Anita Dongre, a noted fashion designer pledged Rs.1.5 crore to the PM Cares.  Sabyasachi donated another Rs.50 lakhs to West Bengal CM Relief fund.
Bahubali actor Prabhas chipped in Rs.3 crore to the PM Cares fund and Rs.50 lakhs each to Telangana Andhra Pradesh CM fund. Mega star Rajinikanth donated Rs. 50 lakhs to South film industry's daily wage earners. Politician actor Pawan Kalyan pledged Rs. 1 crore to the PM Cares fund.
In the times of unprecedented crisis that we are facing, every small contribution counts. You can contribute to: