Finally after a long break, the cinema halls are all set to open. There have been some minor releases in between but this Diwali marks the return of big tickets on the silver screen.
Theatre owners look forward to these releases and hope for the viewers to return to the theatres on the back of some long awaited big budget movies ready to take off.
With crossed fingers, these are the top 5 movies that we expect will set the stage for the return of moviegoers to the cinema halls.

1. Sooryavanshi – (Starring – Akshay Kumar, Ranveer Singh, Ajay Devgan, Katrina Kaif… Director – Rohit Shetty)
This Rohit Shetty's ambitious Cop drama was ready to release just before Covid wave forced the cinemas to shut, putting this big ticket drama on hold. But now with everything in place Sooryavanshi is all set to hit the theatres on 5th November as this year's big Diwali release.
With a subject right in Rohit Shetty's forte and with 2 highly successful movies (Singham and Simbaa) integrated Sooryavanshi seems to be a sure shot winner. One of the rare multi starrers with 3 A List actors reprising already popular characters, Sooryavanshi seems to be worth all the wait that makers did, instead of releasing this on OTT.
2. Bunty Aur Babli 2 – (Starring – Saif Ali Khan, Rani Mukherjee, Siddhant Chaturvedi, Pankaj Tripathi.. Director – Varun Sharma)
Bunty Aur Babli was a smash hit back in 2005 and now makers are back with the sequel after 16 years. With Saif Ali Khan replacing Abhishek Bachchan and Pankaj Tripathi getting in the mammoth shoes of Amitabh Bachchan, the trailer still manages to refresh the memories of the original movie.
Going by the trailer, Bunty and Babli come out of retirement when they come to know about the robberies across the country following their template. And we are introduced to Siddhant and Sharvari who play the young robbers.
Trailer looks fun and sets expectations of a fun filled ride with Saif and Pankaj's witty dialogues and Rani adding to charm as ever. Releasing on 19th November, Bunty aur Babli 2 can be the surprise package of the year.
3. Satyamev Jayate 2 – (Starring – John Abraham, Divya Khosla Kumar.. Director – Milap Jhaveri)
Back in 2018, John Abraham's Independence Day release Satyamev Jayate was a surprise earner. That Milap Jhaveri directed film worked with its target audiences because of its massy dialogues, high on emotion scenes and raw action.
With John Abraham once again playing the vigilante and the double role as a policeman twin brother, Satyamev Jayate 2 promises to be filled with twice as much jingoism, twice the massy dialogues and twice the action.
Releasing on 25th Nov 2021, Satyamev Jayate 2 might be the movie that would bring back the audiences to single screens and the cinemas in massy circuits.
4. Antim – The Final Truth (Starring – Salman Khan, Aayush Sharma. Director – Mahesh Manjrekar)
After Radhe, which failed to make it to the theatres and got an OTT release, Salman Khan is all set to return to the big screen with Antim – The Final Truth. Starring his brother-in-law Aayush Sharma in an important role, this Mahesh Manjrekar directorial is said to be a remake of recent marathi hit film Mulshi Pattern.
Salman, who now seems to have picked up the task of resurrecting Ayush's career, is in full form in the trailer, playing an honest Sikh cop. All set to release on 26th Nov 2021, Antim clashes with Satyamev Jayate 2, and the winners of this clash are going to be the audiences who hopefully will be spoilt for choice.
5. 83 – (Starring – Ranveer Singh, Deepika Padukone. Director – Kabir Khan)
Talking of the films waiting to get released since lockdown, 83 is just behind Sooryavanshi. Almost ready to release, the film had to wait for almost 18 months to hit the theatres.
This Ranveer Singh starrer Kapil Dev biopic is one of the most awaited movies as of now, and with the transformation which Ranveer has shown in the first look, this certainly has built up a lot of excitement for the release.
After lukewarm Phantom and a disastrous Tubelight, this story about India's dream journey to first Cricket world cup in 1983 might be the much eluded hit Kabir Khan is searching for.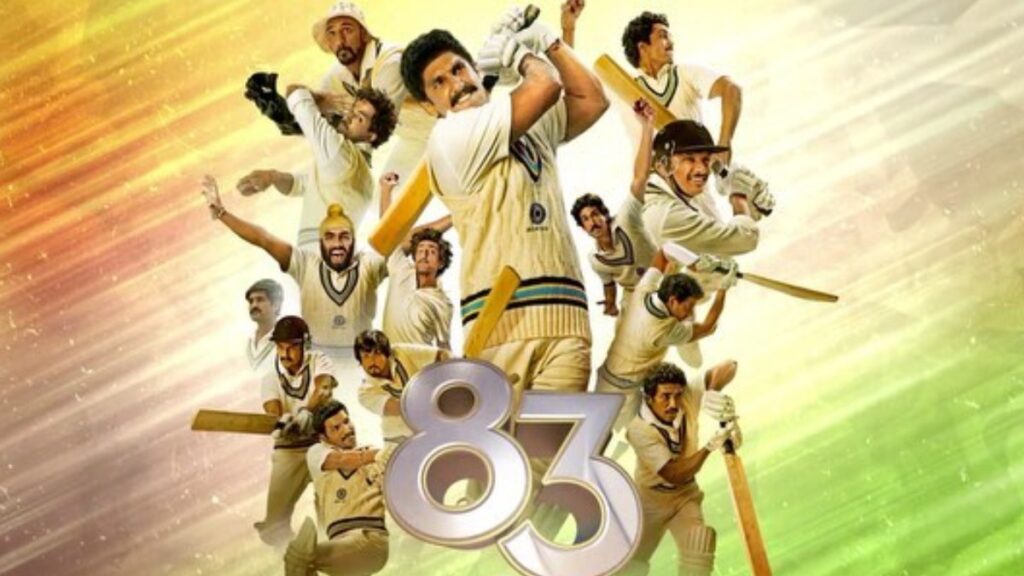 Keep watching this space for more upcoming updates on movie releases, previews and reviews……