Director Hitesh Kewalya makes his directorial debut with a first of its kind subject in main frame cinema- a gay love story in Shubh Mangal Zyada Saavdhan. Until now, we've just seen a passing, often snide, comical reference being made to this topic. Starring Ayushmann Khurrana and Jitendra Kumar in lead roles, the other actors include Neena Gupta, Gajendra Rao, Manurushi Chaddha, Manavi Gagroo and Sunita Rajwar.
The story line
Kartik (Ayushmann Khurrana) meets Aman(Jitendra Kumar) in Delhi. The gay lovers face some complications in the capital city (not related to their sexual preferences) are compelled to move down to Allahabad, where they attend Aman's cousin's wedding. Soon, Shankar Tripathi (Gajraj Rao) finds the two getting cozy. Hells breaks lose as the entire family learns about this rather 'unholy' relationship and attempt to separate the duo.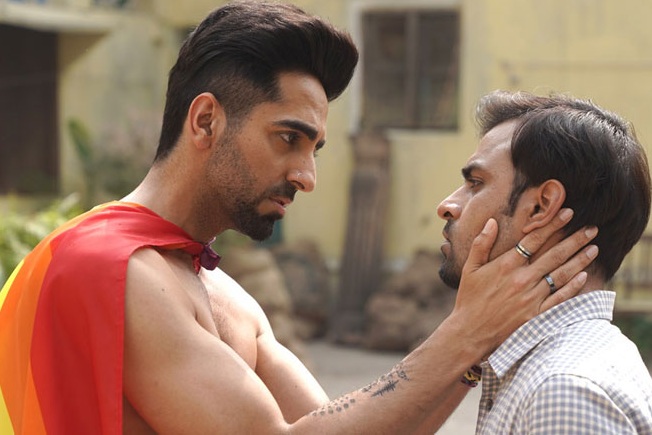 The Aces
Both the story and direction by Hitesh Kewalya is great, but only in parts. Ayushmann Khurrana as usual does a splendid job and so are the actors Neena Gupta and Maunurishi Chaddha. The limelight is however stolen by Gajraj Rao, with his ace performance. Maanvi Gagroo too is convincing and does a great job. Neena Gupta amply depicts the dilemma of a mother who is caught between love for her son and societal norms. Editor Ninad Khanolkar successfully retains the crispiness. The music is just about okay.
The Misses
Jitendra Kumar misses to make an impact. He is known for his roles in web series, but in the film he is perhaps the only weakling in addition to some misses in direction by Hitesh Kewalya. The humour in the movie is ill-placed and deviates the otherwise serious story from its primary focus. Also, the way the authorities and people in a small city of Allahabad react to such a controversial issue does not sync with the reality and therefore fails to convince the audience.
The Outcome
Though laced with great actors and a novel subject and overall it is a good movie, yet Shubh Mangal Zyada Saavdhan falls short to awe the audience. The movie does have some great moments, funny scenes and a beautiful message for the society, it lacks depth at times and deviates from the core issue, thereby diluting the story and the message.