Want to experience some Hollywood style action? Baaghi 3 takes action thrills to the next well! The 3rd movie in the Baaghi franchise Baaghi 3 once again roped in the original pair of Baaghi, Tiger Shroff and Shraddha Kapoor. For the 1st time, you'll see Tiger Shroff and Jackie Shroff sharing the screen space as reel life father-son duo. Directed by Ahmed Khan and produced by Nadiadwala Grandson Entertainment along with Fox Studios, Baaghi 3 is out and out action movie that will leave you glued to you seat.
The Storyline
2 brothers, elder Vikram (Riteish Deshmukh) is the weakling, younger brother Ronnie (Tiger Shroff) is his saviour since the time they were kids, and then there is Jackie dada as their dad. Well, the daddy tells the younger son to take care of the elder brother, which he delivers to the extent that when Vikram lands up a police job in Agra, Ronnie does all the fighting and catching criminals, while Vikram earns the laurels. The story gets an international angle when Vikram gets kidnapped by Abu Jalal Gaza played by Jameel Khoury an Israeli, in Syria and Ronnie single handedly fights the tankers, guns, choppers and more to save his dear bro. Vikram gets married to Ruchi (Ankita Lokhande) and Ronnie's love interest Siya (Shraddha Kapoor) is Ruchi's sister.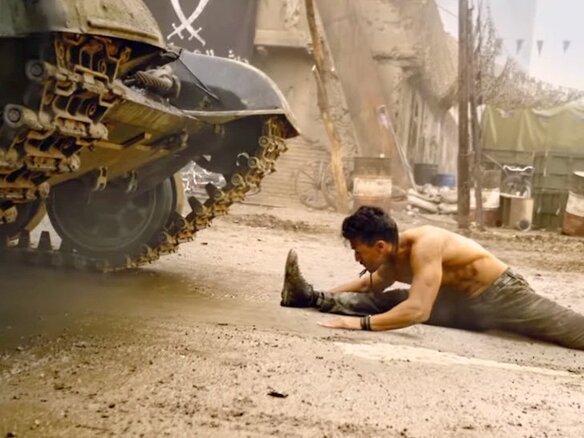 The Hits
Tiger Shroff wins hands down with his power packed action and his abs, which he never misses to show off throughout the movie. You'll see some amazing fight sequences like you've never seen before. For example, the choppers when they line up one above the other!
The Misses
Since the movie is entirely based on Tiger Shroff, Shraddha Kapoor has little scope of acting or screen presence here. Shraddha's comic timing needs improvement and Ankita Lokhande has nothing much to do either. Dialogues by Farhad Samji are over chewed and lack any originality or substance.
Our Takeaway
Baaghi 3 takes action several notches up. Stupendous performance by Tiger Shroff are some of the things that you'll love in the movie. If you are a diehard Tiger Shroff fan and love to see his action sequences, this movie is for you.