Shahid Plays Truant
Buzz is that Bipasha Basu and Shahid Kapoor are getting close to each other. In the media, there were many speculations about Shahid Kapoor and Bipasha Basu's on-off-off-on relationship. But Shahid seems to be not interested in taking the relationship to the next level. According to the sources, apparently Shahid is still trying to heal the painful wounds of his previous long term relationship with Bebo. This is the reason Sasha seems to be in no mood to commit Bips.
Before Bipasha came into scene, media speculated that Shahid is dating Priyanka Chopra. But the relationship got defunct early this year. Shahid and Priyanka's friendship was very turbulent. People close to Shahid say that Sasha is a very sensitive and passionate person. The break up he went through took a toll on him and that's the reason he isn't in right space where he could commit someone.
After John, there seems to be a new man in Bipasha's life. She seems to be seeking solace in Rana Daggubatti's arms. Bipasha recently stated that Sasha needs some more time to get in relationship with her and Rana Daggubatti is her very close friend.
Shahid Kapoor ranks higher in the list of topmost eligible bachelors of B-Town. After his long term relationship with Bebo aka Kareena Kapoor, he has dated many ladies of B-Town. The list of his link-ups especially with his co-stars is huge.
Shahid Kapoor seems to be very much in demand these days. The chocolate boy has got many offers for the next year. According to the reports he has been offered Once Upon a Time In Mumbai's sequel. Apart from this, he has also been approached by Siddharth Anand and Tigmanshu Dhulia for their upcoming flicks. Also buzz is that Anand Raj has approached Shahid for his upcoming flick Ranjhana. The director was eager to cast Shahid opposite Kangana Ranuat. But the actor declined the offer saying that he won't pair opposite Kangana. So now the director is busy searching for another leading lady who will be casted opposite Sasha aka Shahid Kapoor.
Besides Ranjhana, Shahid hasn't finalized any of the above projects as he is off to Europe for a holiday.  Directors are eagerly waiting for Sasha to come back and sign their projects. Prakash Jha seems to be impressed by Shahid Kapoor and this is the reason the director also offered a lead role in his upcoming flick 'Satyagrah'. Industry insiders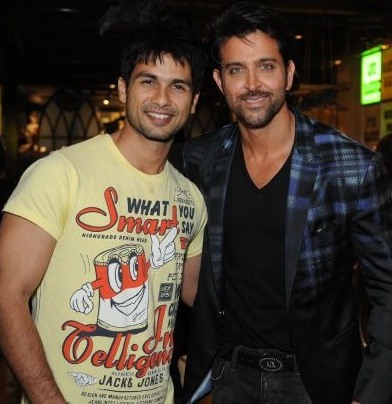 say that Shahid Kapoor has refused to do Vishal Bharadwaj's next.
Shahid Kapoor's stars are shining these days. KP Singh, an Udaipur based industrialist, approached Hrithik and Shakira for a dance performance at his birthday bash. But unfortunately, Hrithik had disc problem. Due to this, Hrithik won't be able to perform for a long time and hence he stepped out from the program. Now, the offer went to Shahid Kapoor and fortunately he is fit and fine but even he is not sure whether he will be able to make it.
According to the sources, Shakira wants an Indian actor to shake a leg with her. Let's see who will be the lucky person to share stage with this international diva.
Shakira