Akshay Stymies It With A Comeback Line!
After the release of 'Desi Boyz', Bollywood's Khiladi- Akshay Kumar seems to be signing many new projects which will be on floors next year. 'Speedy Singhs' released in the year 2011. The film was produced by Akshay that earned him huge profits overseas. The film did extremely well internationally. Insiders of the industry have it that Akshay has signed many production ventures for next year and even shot various television commercials.
It's the year end and Akki was back in view with his latest flick 'Desi Boyz' where he starred opposite Chitrangada Singh and also shared screen space with Deepika Padukone and John Abraham.  The movie was more like rise and shine for Akshay Kumar.
Akshay has done a two hero film after a very long time. The chemistry between John and Akshay was liked by his fans. Doing a double hero film is fun for him. For Akki, everything is fine as long as actors respect each other's efforts and time. Akki easily gets along with his co-stars. He rarely had any sort of problem with his co-stars on any film sets till date. According to Akki, the director is on a toll while shooting a multi-starrer film as he has to manage all the actors.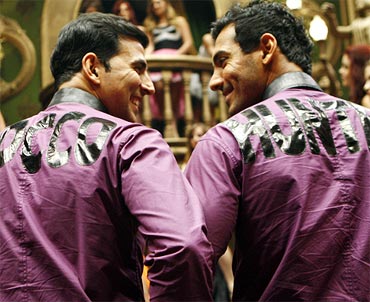 After witnessing the downfall in Akshay's career few people in the industry thinks that the fat pay cheque of Akshay as his remuneration makes the project economically unviable. Akki seems to be disappointed with such statements and therefore he comments that rarely anyone knows about the business sides of his movie projects, not even his family. Therefore making such statements is absolutely disgusting.
After Shah Rukh Khan even Akshay Kumar has turned actor cum producer. Till date Akki has produced four films namely 'Tees Maar Khan', 'Khatta Meetha', 'Speedy Singhs' and 'Patiala House'. All of them failed to make a mark at the box office. But Akki didn't face any loss. Instead all the four films managed to recover some amount over the cost.
Akshay has turned 44. He leads a lavish lifestyle and this is the thing that keeps him look young and fit. Khiladi Kumar avoids drinking and smoking. According to the actor, the key to healthy and long life is proper exercise and healthy nutrition.